OPEN for in store shopping, and free delivery on orders over $200
Login
Log in if you have an account
Dont have an account? Register
June 2020 Wine Club has shipped
29 Jun 2020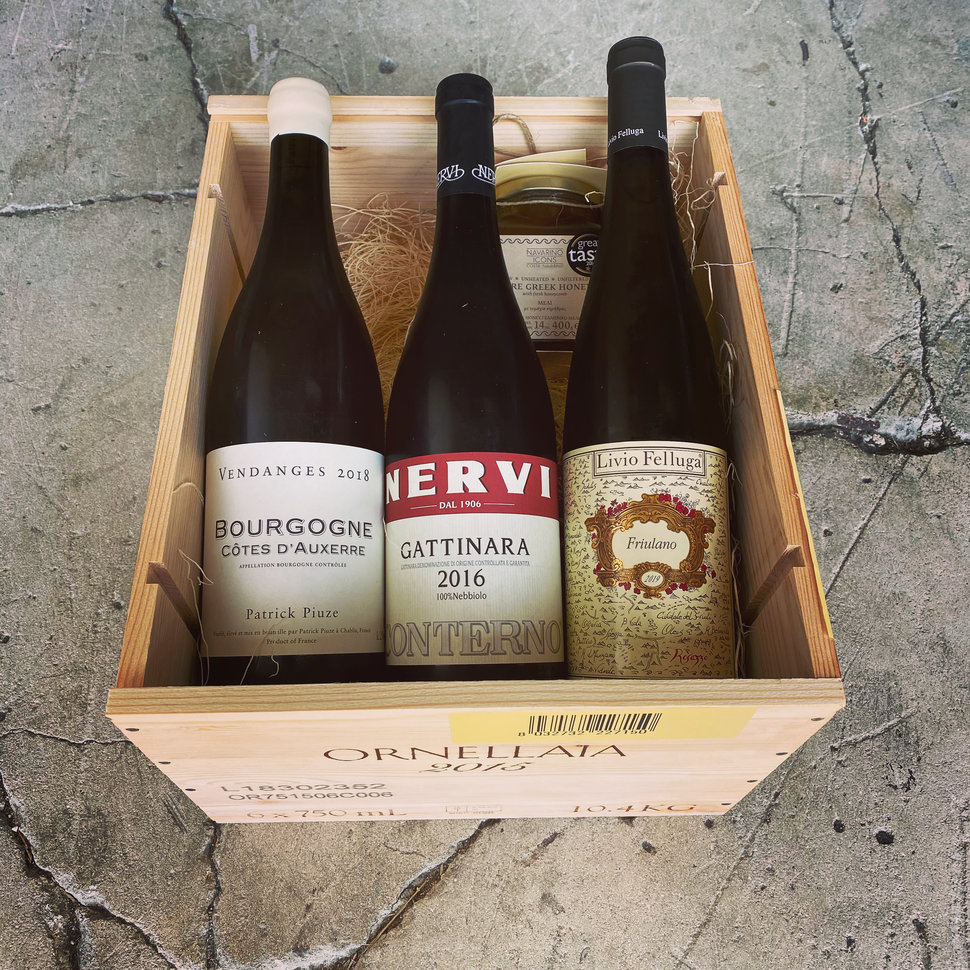 Our Selection for June:
This month we selected wines from some of our favorite producers, showcasing their efforts in lesser known appellations. Roberto Conterno, owner of Giacomo Conterno, recently purchased Nervi, a benchmark Nebbiolo producer in Gattinara in the Alto Piemonte. This wine is an exciting addition to our portfolio and our wine club is the first to try it. Also included is a special effort from Patrick Piuze and a fresh and fruity Friulano from Livio Felluga.
Conterno-Nervi Gattinara 2016
We are lovers of well-made Nebbiolo and there is only one place in the world where this grape can flourish. The Alto Piemonte and specifically Gattinara showcase a softer side of Nebbiolo in comparison to Barolo and Barbaresco. We are excited to add Conterno-Nervi to our portfolio. Giacomo Conterno is arguably the benchmark Barolo producer and this is a chance to see what he can do with a top estate in Gattinara. This is Conterno's second vintage at the helm and this wine is something special and the critics agree. Please decant for at least an hour or store this one away in the wine fridge for a couple of years to really see where this wine will go.
From the critics:
94 pts (Antonio Galloni - Vinous): Nervi's 2016 Gattinara from Nervi is superb. Sweet red cherry, mint, juniper berry and wild flowers are some of the many notes that soar out of the glass. The 2016 is distinguished by its brilliant aromatic presence and tremendous purity of fruit. Even just bottled, the 2016 exudes precision and nuance to burn. Of course, the 2016 needs time, but readers who want to get a sense of what the future holds at Nervi will get plenty of answers here. This is such a captivating wine.
Patrick Piuze Bourgogne Côtes d'Auxerre 2018
Patrick Piuze has built a name for himself crafting wines that transcend the Village Chablis designation and showcase the terroir of each individual village. It has taken me a bit of time to understand these wines and within the context of the other Chablis producers in our portfolio. Patrick is the master at controlling the acidity and building wines with texture and personality. This Bourgogne Côtes d'Auxerre is compelling for that same reason and shows that even at the Village level, he is a master at bottling Chardonnay with big personality. Don't hesitate to try any of his wines.
From the producer:
The vines for Patrick's Bourgogne Côtes D'Auxerre come from the village of Saint-Bris-le-Vineux in northern Burgundy's Vallée de l'Yonne. The vines enjoy a western exposure, with rocky, Portlandian limestone and clay soils.
Patrick favors long fermentations with native yeasts and ages all of his wines on their lees. Allowing nature to take its time and letting the temperatures rise and fall of their own accord allows the skins to soften and gracefully impart their aromatics and flavors into the finished wine. The grapes are pressed gently by mechanical press. Primary fermentation for the Bourgogne Côtes d'Auxerre takes place in stainless steel tanks and can last up to five months. The wine then goes through 100% malolactic fermentation and ages on the lees for four months in stainless steel tanks before a light bentonite fining, a light filtration with diatomaceous earth, and bottling.
Livio Felluga Friuli Colli Orientali Friulano 2019
The Friulano grape is aromatic and lively making this wine an easy drinking wine perfect for the summer months. Those looking for an alternative to Sauvignon Blanc might find this wine compelling. After trying all the Felluga wines we will narrow down the offerings to just the Friulano, Pinot Grigio, Terre Alte and the Rosé.
Dry Goods Add-on:
Navarino Icons Pure Greek Honey with fresh honeycomb:
RAW—UNHEATED—UNFILTERED
Navarino Icons Greek honey is harvested from colonies of bees that roam freely to collect nectar from the flowers blooming in abundance in the region around Messinia. Naturally thick and golden our pure honey is unheated and unfiltered, to preserve its nutritional benefits and highlight its delicate taste and aroma. It is cold packed by hand without the addition of artificial additives or flavorings. A piece of fresh honeycomb straight from the hive, is added to the jar.