OPEN for in store shopping, and free delivery on orders over $200
Login
Log in if you have an account
Dont have an account? Register
January 2020 Wine Club has shipped
25 Jan 2020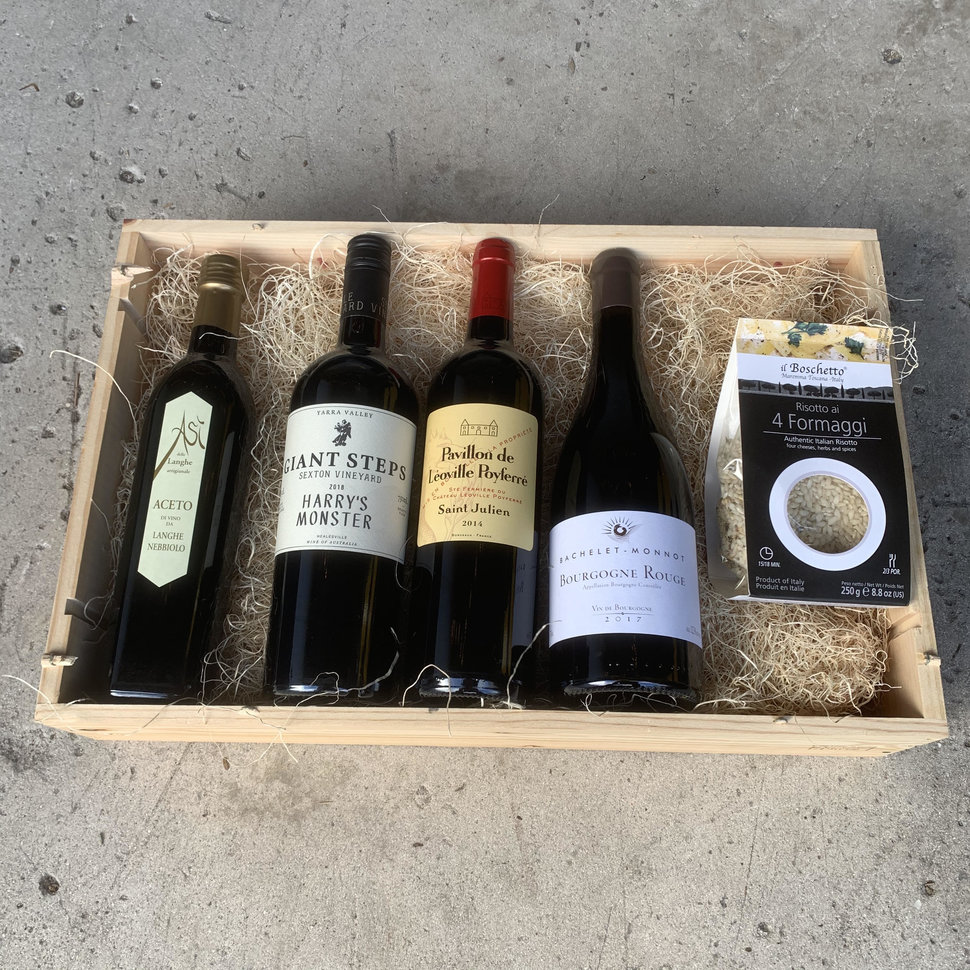 Our Selection for January:
This month is all about comparison tastings between Cabernet Sauvignon dominant Bordeaux blends from both the New World and Old World. We also included one of our favorite Burgundy reds for those that enjoy a lighter wine.
Pavillon de Léoville Poyferré 2014
This is the second wine of Léoville Poyferré and Moulin Riche, two classic Saint Julien estates in the heart of Bordeaux. This Cabernet dominant left-bank blend is meant for early drinking. Many people overlook the 2014 vintage as 2015/2016 received all the attention from the press and critics. I love the 2014s as they are classic wines, restrained but true to the region.
This is an exclusive wine for TRW and we will be hosting a wine dinner later this Spring that will showcase the wines of H. Cuvelier, the family that owns this Estate. If you enjoy this wine, stop by and pick up a bottle of Chateau Moulin Riche, which is also drinking very well right now.
Giant Steps Sexton Vineyard 'Harry's Monster' 2018
We recently added a number of Australian wines to our portfolio including producer Giant Steps, which makes wines primarily in the Yarra Valley. This is their Cabernet dominant Bordeaux blend which is a perfect comparison to the Pavillon from Bordeaux.
If you get a chance, open these two wines side by side to see the difference between New and Old World wine making styles. This wine is all about upfront fruit and the juiciness created by a warmer climate. There is still some freshness which make this an absolute pleasure to drink.
Bachelet Monnot Bourgogne Rouge 2017
It's no secret that we love Burgundy reds and this is one of our favorite entry level Pinot Noirs. This bright, racy Bourgogne is drawn from three parcels. one-third comes from old vines in the Hautes-Côtes, one-third from vines in Maranges and one-third from a Bourgogne parcel on the edge of Puligny-Montrachet. The Puligny component brings perfume, the Maranges brings a depth of fruit, and the Hautes-Côtes brings the structure and again, plenty of high grown perfume. Naturally fermented in concrete tanks with less than 10% whole bunches, the Bourgogne Rouge was aged in used barrels this year as Marc Bachelet felt the generous fruit in his reds required no new oak.
Dry Goods Add-on:
Asi delle Langhe Nebbiolo Aceto: Claudio Rosso's Langhe red wine vinegar comes from the refinement of a skilful combination of Nebbiolo, Barbera and Dolcetto grapes. A unique product of high quality, deriving from a long and careful process that contains all the flavor and character of the Langhe.
Il Boschetto Rissoto ai 4 Formaggi: a risotto with a decisive and genuine flavor reminiscent of the great products of the Italian tradition. Emmenthal, Grana Padano, Gorgonzola and Pecorino are combined with arborio rice to create an authentic risotto that is easy to make.