OPEN for in store shopping, and free delivery on orders over $200
Login
Log in if you have an account
Dont have an account? Register
February 2020 Wine Club has shipped
25 Feb 2020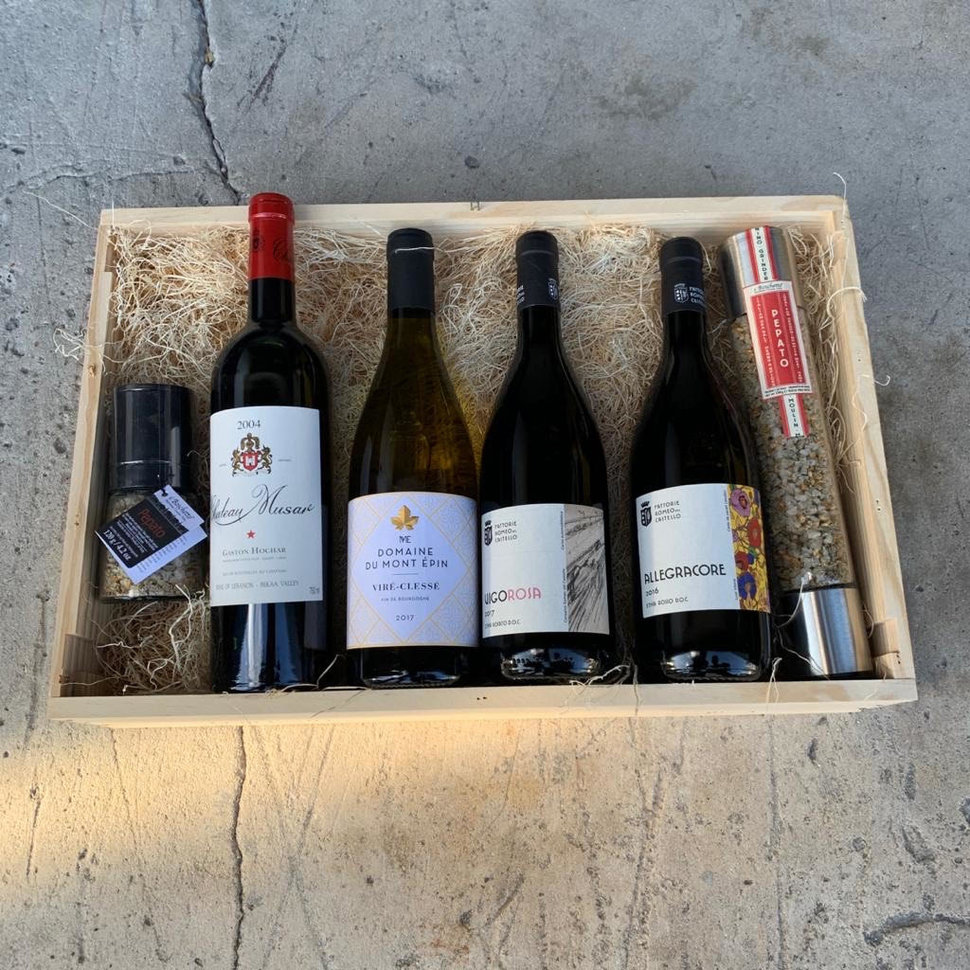 Our Selection for February:

We really wanted to overdeliver this month with a focus on a broad spectrum of organic wines. We included a special back vintage from Lebanon, two natural wines from Mount Etna and beautiful Chardonnay from Burgundy.

Chateau Musar 2004 (Lebanon)
This vintage of Chateau Musar was one of our favorites and gives you glimpse at what 15 years of aging can do for properly crafted wine. The current available vintage is 2012 but the winery was kind enough to sell us a small package of 2004 for the wine club. For those of you that haven't tried these wines, they are often compared to older Bordeaux made in a rustic, classic style. Below are some notes on the 2004 vintage:
The vintage experienced at Chateau Musar in 2004 only happens on average once in every decade. The winter in Lebanon was fairly consistent with previous years with snow until March, spring until June followed by a very mild and gentle summer. Fresh, cool air dominated the summer months which allowed the grapes to mature slowly and steadily. At the very beginning of the 2004 harvest and for two weeks, the grapes had low sugar content with medium acidity. Then suddenly a one week heatwave changed everything – high sugar content grapes, but again with medium acidity, began to arrive at the winery. This interesting and important experience was like a case study, almost as if they were having two different harvests in the same year.
The wines from the first two weeks of the harvest were fruity and mellow with floral aromas from the Cinsault and Carignan. The Cabernet Sauvignon was more powerful, intense and concentrated with mature black and red fruits, leather and spices. Two weeks later the Cinsault and Carignan developed more of a red fruit character, the overall palate became more velvety with smooth integrated tannins.
The wines spent 9 months in cement vats and then a year in French Nevers oak barrels and the final blend of Cabernet Sauvignon, Cinsault and Carignan rested for another 9 months in vats before being bottled and transferred to the Chateau Musar cellars high in the mountains at Ghazir to begin its journey of maturation and development.
Fattorie Romeo del Castello (Sicily)

We included two wines from this little gem of an estate nestled on the north side of Mount Etna. I tasted these wines on a recommendation from a sommelier in New York and really felt they showcased something a little different from the other Etna wines in our portfolio.
I know it's off season, but the rosé is a real standout to me. It's often referred to as the "Thanksgiving" Rosé or a winter rosé, as it drinks like a chilled red. Perfectly paired with a roast chicken or turkey, this is luscious glass of wine that is bottled with little to no Sulphur and farmed organically.
Next up is the Allegracore 2016 which is a red wine made from two indigenous varieties, Nerello Mascalese and Nerello Cappuccio. This wine is elegant but powerful, showcasing the intensity these two relatively thin-skinned grapes can bring to a wine. If you enjoy this wine, we recommend trying the wines from Terre-Nere which are a bit more polished.

Domaine du Mont-Épin Viré-Clessé 2017 (Burgundy)
This estate was just recently Demeter certified as biodynamic and organic. I love that these two brothers can stay true to their farming philosophy while producing such enjoyable wines. This is Chardonnay that most people who dislike Chardonnay can really get behind. The style is juicy and giving, full of pleasure. Neutral barrels are employed to give this wine some weight. There isn't much value left in Burgundy, but for $20 a bottle, there is so much to enjoy here.

Dry Goods Add-on:
Il Boschetto Pepato Salt Grinder
Il Boschetto is located in the heart of Tuscany in a small medieval village on the Tyrrhenian coast. Known for the quality, elegance, and innovation of their products, Il Boschetto creates spice mixes that are traditional and innovative both in taste and presentation. The Pepato grinder is made from course sea salt from waters off the coast of Castigliione della Pescaisa in Tuscany is paired with black pepper, orange zest, lemon zest, garlic and onion.