OPEN for in store shopping, and free delivery on orders over $200
Login
Log in if you have an account
Dont have an account? Register
May 2020 Wine Club has shipped
27 May 2020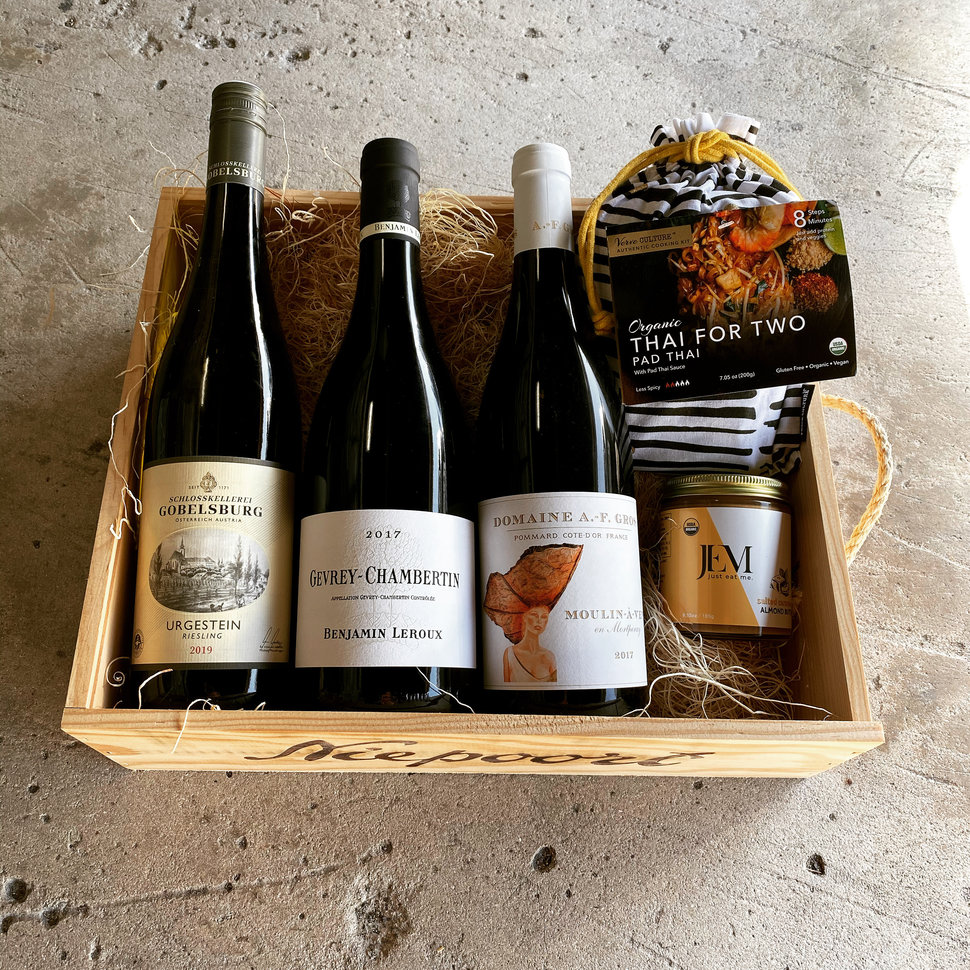 Our Selection for May:
This month we wanted to explore the southern end of Burgundy with a beautiful bottle of Moulin-à-Vent from Domaine A.-F. Gros. From the north in the Côte de Nuits, we chose a bottle of Benjamin Leroux Gevrey Chambertin. Finally, to round it all off, a bottle of Schloss Gobelsburg 'Urgestein' Riesling under screw cap.
Domaine A.-F. Gros Moulin-À-Vent en Mortperay 2017
This is the first release from AF Gros of their new Beaujolais Cru and it's an absolute beauty. The Domaine is located in Pommard and holds a small parcel of Richebourg, one of the most famous Grand Cru's in the Cote de Nuits. We are lucky enough to get a small parcel of these wines once a year, but the pricing and volumes don't quite work for the Wine Club.
The 2017 Moulin-A-Vent is made from Gamay grapes that are treated like Pinot Noir for fermentation. There is no carbonic maceration which often occurs in Beaujolais. This wine is elegant, pure, and a bit wound-up after you initially pull the cork. We recommend shuffling this away in your cellar for a year or two to really see what the wine will evolve into. If you are anything like us, the wine just won't survive that long! Make sure your pull the cork an hour before you enjoy it and be sure to pour the wine into a decanter.
Benjamin Leroux Gevrey-Chambertin 2017
 
Now we move to Pinot Noir from one of the finest micro-négociants in Burgundy. There is something special about this bottle and every year we seem to increase our purchase of Leroux's Gevrey-Chambertin. Please give this a decant or store it away for a year or two for maximum enjoyment!
From the winemaker:
Leroux's 2017 hails from the 50-year-old vines of Les Seuvrées (bordering Morey and contributing 50% of the blend), the northern limestone-rich La Justice, and old vines in Le Fourneau-in the centre of the appellation. To add to these perennial sources, the 2017 takes in a little old-vines Jeunes Rois, in Brochon near the Fixin border. So it is really a universal Gevrey. Each parcel is vinified separately before blending. There was minimal whole bunch used, and, unlike last year when the wine was aged two-thirds in tank and the remainder in 35-hl foudre, this year all Leroux's Gevrey villages was raised in 228-litre barrels to add a little more flesh. Leroux's aim is to channel the more elegant, floral side of Gevrey and this is on show here big time, with a terrifically perfumed, nuanced and textured wine with notes of peony and rose petal, grenadine and blackcurrant and plenty of that classic Gevrey 'iron filings' minerality. The finish is mouthwatering, intense yet precise, with super-fine tannins.
Schloss Gobelsburg 'Urgestein' Riesling 2019
This is my contender for top wine of the summer (so far)! It has zingy acidity, great balance and a freshness that makes you want to drink bottle after bottle. Don't judge this bottle by its shape, the grape or its screw-cap. Just sit back and enjoy.
Dry Goods Add-on:
JEM Salted Caramel Nut Butter and Verve Culture Pad Thai for two