Free Delivery on Orders over $100 and Wholesale Pricing on Wines
Login
Log in if you have an account
Dont have an account? Register
Jean-Marc Pillot Burgundy Case Selection
13 May 2021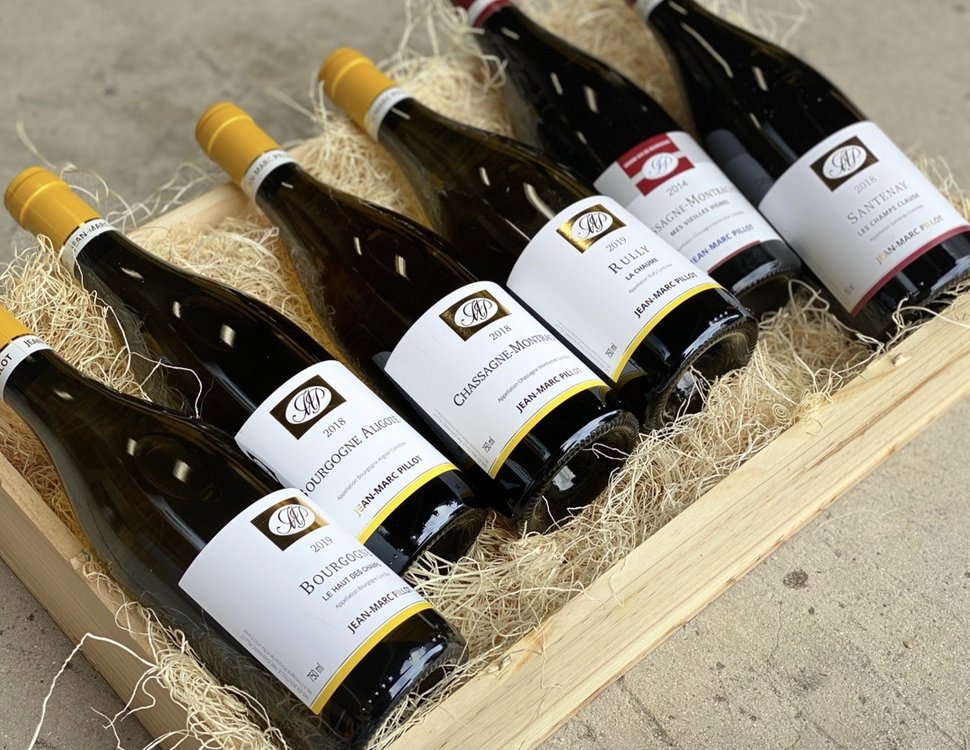 JEAN-MARC PILLOT - CHASSAGNE-MONTRACHET
Jean-Marc Pillot has quietly turned this address into a world-class Domaine since taking over from his father, Jean, in 1985. He is the fourth generation of the Pillot family to tend vineyards in Chassagne-Montrachet. After six years working alongside his father, Jean-Marc assumed the direction of the Domaine in 1991. He instituted several changes at the Domaine, the most prominent of which was constructing a new cellar on the outskirts of the village. He also increased the number of vines cultivated and has made subtle modifications in vinification and élévage to place his own 'stamp' on the Domaine, which now covers approximately 15 hectares of vineyards spread across the Côte de Beaune.
At one time, Chassagne-Montrachet was as famous for its red wines as its whites. Over time white wine has become the dominant output in Chassagne, yielding both the farmer and enologist more money per hectare for white grapes and wine. Despite this, Jean-Marc continues to produce beautiful and elegant Chassagne-Montrachet Rouge. This Pinot Noir is a lovely Burgundy expression getting harder and harder to find. Enjoy a bottle included in this special offer.
Jean-Marc works his old vines (average 50 years old with a parcel of Pinot over a hundred) without the use of chemicals, and the fermentations are as natural as the vintage dictates. His use of oak is thoughtful and measured - barely enough to notice and sufficient to enhance the balance of the overall wine. His wines possess everything, from the classic firmness of a great Chassagne, richness, and depth of fruit, and a long, harmonious finish. These wines are for drinking, not for show.
30 Available at a discounted price of $210
This special offer includes one bottle of:
BOURGOGNE BLANC 'Le Haut de Champs' 2019
We all tend to judge Burgundy producers on their entry-level, generic Bourgogne. If a producer cannot produce something special with their entry-level vines, it's unlikely that they will enamor you with their top vineyard holdings. Jean-Marc does not disappoint here. This wine is a crisp, well-defined Bourgogne blanc with great aromas and balance. Lovely textured green orchard fruit on the palate with lifted acidity and a pure, focused finish.
BOURGOGNE Aligoté 2018
The Aligoté grape is finding new life in Burgundy. Fresh and lively with aromas of herbs and spice and hints of grapefruit peel. The finish is bone-dry, driven by a mineral streak with a lingering, savory aftertaste.
RULLY 'La Chaume Blanc' 2019
Pillot stretches further afield into the Côte Chalonnaise. Further down South, this cuvée benefits from the warmer temperatures and shows us riper orchard fruit and slightly softer acidity. 
CHASSAGNE-MONTRACHET Blanc 2018
This wine is sourced from three separate plots of the village's best sites from vines aged between 40 and 95 years. The younger vines give lift, elegance, and vibrancy, while the older vines give power and depth. This has citrus zest and green apple on the nose, with an impressive density and volume on the palate.
SANTENAY Rouge 'Les Champs Claude' 2018
From a parcel of 45-year-old Pinot Noir, it's soft and succulent on the palate with ripe strawberry and red cherry-tinged fruit, laced with a mineral edge that keeps everything fresh. This is textbook village Santenay.
CHASSAGNE-MONTRACHET Vieilles Vignes Rouge 2018
Historically known as a village for red wines, Chassagne can still be home to some of the Côte de Beaune's Pinot Noir gems. This has lovely juicy dark fruit and cooked raspberry with depth and complexity coming from old vines.