OPEN for in store shopping, and free delivery on orders over $200
Login
Log in if you have an account
Dont have an account? Register
August 2021 Wine Club has shipped!
24 Aug 2021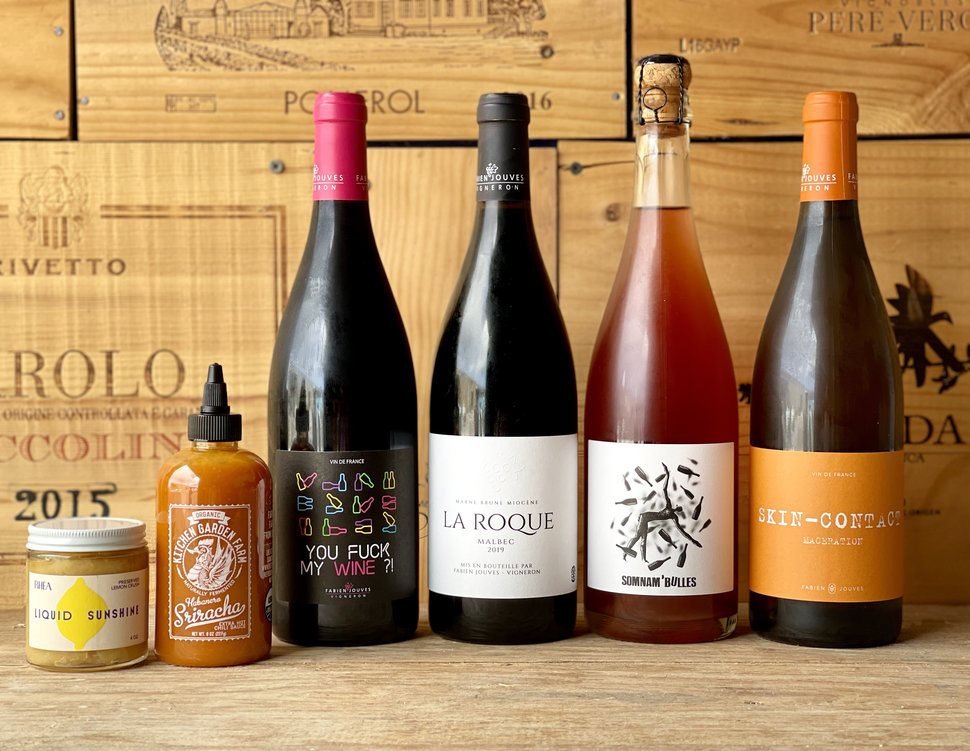 This month is all about Fabien Jouves and his fantastic natural wines out of Cahor.
'Natural' in this case means no added sulfur, no pesticides, no herbicides and no
filtration. Most of the wines in the August Club come from the 'vin de soif' or thirst
quenching section of Fabien's line-up. These are perfect for the hot Bermuda
summer, when we tend to enjoy wines with lower alcohol levels, more fruit, and less
structure. It is extremely difficult to find a 'natural' wine producer that can deliver
quality wine while honoring their position of low sulfur and intervention. Fabien
Jouves pulls it off, year in and year out. We hope you enjoy!
MAS DEL PÉRIÉ - FABIEN JOUVES - CAHORS
Fabien Jouves' family has a long history farming grapes in Cahors. The domaine is a
6th generation property and is located in Causses (literally meaning limestone
plateaus), on the highest slopes of the Cahors appellation. His family's 22 hectares sit
atop the hills of Quercy at over 1,100 feet. The high elevation guarantees low
nighttime temperatures, which partly explains the freshness and vivacity of the
wines. In addition to his family's holdings, Fabien purchased two other pieces of land;
his property totals over 30 hectares.
World famous for his Mas del Périé wines, Fabien also has his own side project
producing wines which not only have the ultimate thirst quenching characters, but
have a message to give. These wines are produced with limited maceration (time on
skins), no added SO2 and are typically vin de soif (quaffing wine) made for drinking
in the year after harvest.
Fabien employs a non-interventionist vinification philosophy. The whole vinification
process occurs naturally with spontaneous yeast. Various vessels are used to age the
wines: concrete tanks, barrels, large foudres, and amphorae depending on the wine's
personality. His Vin de France (aka vin de soif or thirst quenching) tier is his creative
outlet, and showcases the grapes excluded from the modern AOC such as Jurançon
Noir, Gamay and Chenin Blanc. Each of Fabien's Vin de Terroir cuvées is a vineyard
designate wine, which is why he uses a Burgundy bottle instead of the traditional
Bordeaux. Similar to Burgundy, the focus is on showcasing the various differences in
soil composition. Fabien even goes one step further and lists the soil type on the
front label of each cuvée.
His wines are one of a kind and very different, having two distinct characteristics.
First they are as pure as can be, with a direct expression of the land and grape
variety, focussed and balanced whilst still portraying the classic deep inky Cahors
style. Second, these wines are drinkable. They are full of freshness and life.
YFMW (You Fuck My Wine) 2020
This is Fabiens's dig at the French wine regulations when they refused him AOC
status for this blend of Malbec, Merlot and the Jurançon Noir grape which is
relatively rare and native to this part of south-west France but isn't sanctioned under
AOC rules. Brambly and bright with notes of sour cherries, tangy red berries and a
moderate, easy going tannic structure. Enjoy lightly chilled!!

SKIN CONTACT 2020
Orange wines, or skin-contact wines, are created using white grapes with their skins
on. This means that, while the crushed grapes are fermenting, they take on a more
tannic quality from their skins and pips, but also a deeper color. Most skin-contact
wines are more of a golden yellow than an actual orange, but some result in bright
amber wine just like this. Made with Ugni Blanc, Gros Manseng and Muscat, it's
fermented on the skins for three months with wild yeasts which results in tropical
fruit flavors and a discreet grip of tannin. An orange wine that shines with personality
and is hugely enjoyable. A great accompaniment to vibrant Asian-inspired dishes.

SOMNAM'BULLES Rosé 2020
Fabien Jouve's take on pét-nat, a naturally sparkling wine which is becoming a
popular new style for domestic wine production. As with all pét-nats the bubbles are
large and festive, while the palate shows spiced-tinged cranberry, orange rind and
bruised red apple plus hints of tangerine and wild strawberry. The mealy texture is
subtle and refreshing, and as with all Fabien's vin de soif range of natural wines,
great fun to drink.
LA ROQUE Malbec 2019
Fabien Jouves most serious looking label, but drinks just as joyfully as the rest of his
wines. Matured in oak barrels for 18 months, it shows aromas of ripe blackberries,
cherries, saddle leather and cocoa. The richness in the aromas is complimented on
the palate - lithe, bright, smoothly polished and relatively light-weight, finishing with
persistence and clarity. No additions, no corrections, just 100% Malbec from a hilltop
vineyard in Cahors.
For 'dry goods' subscribers, your package additionally includes the following items
from our extensive pantry:
- Liquid Sunshine Lemon Crush (Click to shop)
Sunshine in a bottle. This radiant concentrate adds brightness to any dish. We preserve lemons, chili and spices in kosher salt until the rind becomes tender and the sour flesh has mellowed into pure gold.
How we use it: Add a spoonful to salad dressings or marinades. Serve with carrots, a side of creamy yogurt, and a dusting of cumin. Use as a finish to pan seared fish. Combine with olive oil and drizzle over grilled chicken kabobs. Sprinkle on top fresh shaved fennel and smashed castelvetrano olives. Add to anything that needs a light touch. 

- Kitchen Garden Farm Organic Sriracha (Click to shop) 
Made from a mix of peppers grown on their farm in Sunderland, MA, this is truly a garden to table brand. The chilies are fermented for seven days, then cooked and pureed, creating a sriracha thats all flavour, with the perfect amount of heat. Certified organic!