OPEN for in store shopping, and free delivery on orders over $200
Login
Log in if you have an account
Dont have an account? Register
April 2020 Wine Club has shipped!
28 Apr 2021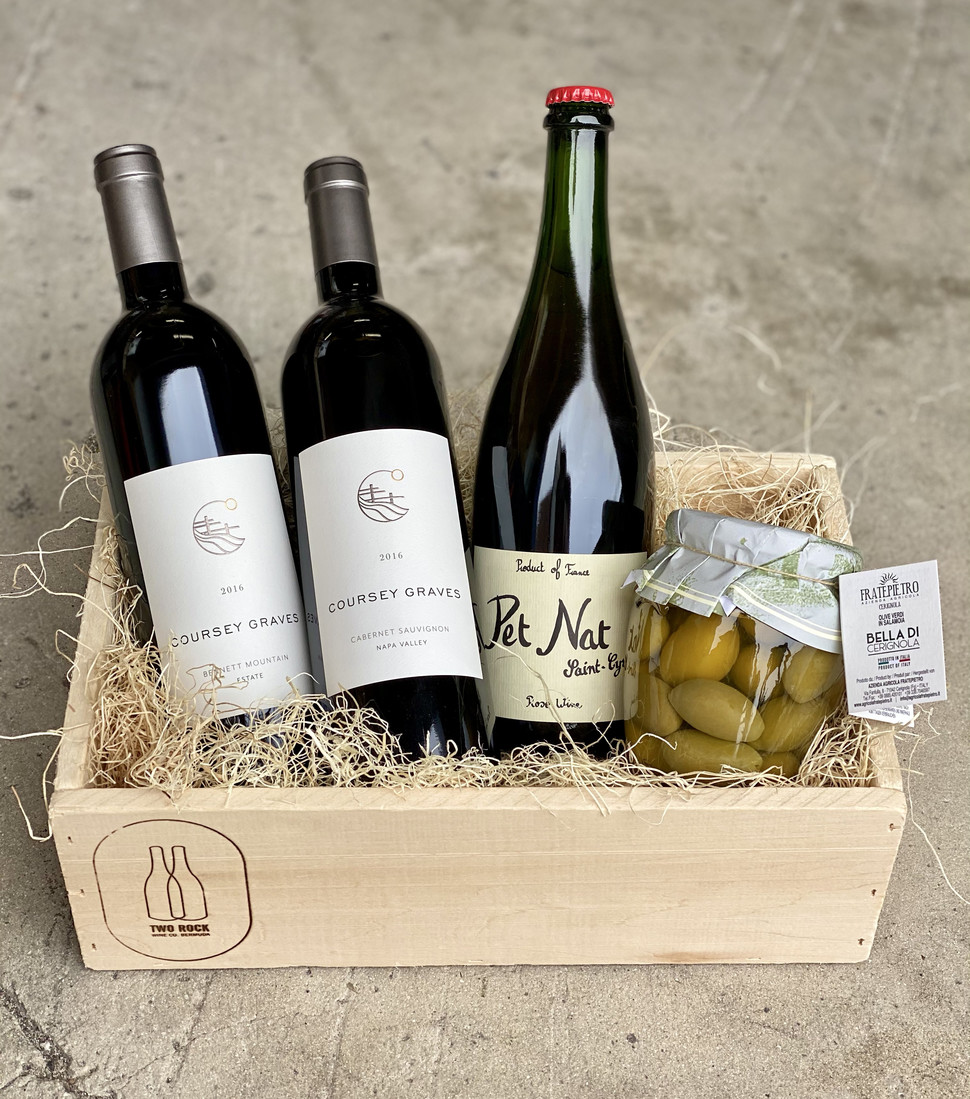 Welcome to the April edition of Two Rock Wine Co's wine club, our monthly subscription box of new and exciting wines, with the option to also add on dry goods! Perfect for someone who loves to try new things, it also makes a fantastic gift, with options for 1, 3 6 and 12 month purchases! 
Without strict limits on bottle counts for the wine club or price per bottle (beyond the $100 cap), we have some flexibility in finding the most exciting wines from around the world. On our travels, we often come across small allocations of wines that might push the boundaries of our regular portfolio.  These wines might challenge our understanding of a region or winemaking style.  Often, they are beautiful expressions of terroir that we look forward to sharing with our members.
Domaine Saint-Cyr Pet Nat Rosé

A Wine Club exclusive!  Think Champagne without the pomp or the price and you've got the wine of the moment: pétillant naturel.  Literally, 'naturally sparkling', it is commonly abbreviated to pét-nat.  And, love them or hate them, natural wines are all the buzz right now!  (We think  you'll love this one!)  Don't let the colour of the bottle fool you - this is sparkling rosé made from 100% Gamay grown in the Pierres Dorées region of Beaujolais.

Fourth-generation winemaker Raphael Saint-Cyr farms his family's 25 hectare estate organically, uses ambient yeast fermentations and sticks to low sulfite additions.  For this wine, the Gamay is direct-pressed, cold-fermented, then bottled with 15 g/L of sugar for a second fermentation 'sûr point' — upside down on its crown cap, without lees ageing — to earn its sparkle.  The wine was disgorged after five months in bottle and was released unsulfured, unfined and unfiltered.

The wine is a pretty light pink color with an active foamy mousse with aromas of strawberry, raspberry and fresh laundry-on-the-line.  The flavors are fruit-driven, with pink berries fringed by a sense of grassy herbs and salt.  It's a terrific wine to serve as an apéritif and the low alcohol makes it ideal for a summer day.  Pair it with young milky cheeses, crispy snacks, grilled shrimp or chicken.  Also terrific with spicy, piquant cuisines.

Fun fact - the Gamay for this wine is estate sourced but, as Beaujolais appellation laws do not permit sparkling wine, this bottle's label reads only as Vin de France.

Coursey Graves Napa Valley Cabernet Sauvignon 2016

The 2016 vintage is an outstanding vintage set amongst great vintages for Napa Valley.  This wine is a small-production offering from a small producer new to the TRW portfolio.  The wine is predominantly Cabernet Sauvignon (with just a touch of Petit Verdot) with the fruit being sourced from three very different Napa Valley AVAs - Coombsville, Howell Mountain and Oakville.  Wines from the Coombsville site (valley floor) exhibit pure blueberry and cassis flavors, with elegant texture and soft, ripe tannins.  Wines from Howell Mountain (two thousand feet above sea level) are typically lower in alcohol with deep color, gorgeous minerality, and otherworldly flavor that continues to develop over decades in the bottle.  The Oakville parcel sits amongst some super premium plots - watch the video to hear about this 'high rent' site!

This wine opens in a beautifully floral display of rose and sage, following through with a substantial weight and breadth of cassis and black cherry.  The oak is rich and rewarding while allowing the wine to remain balanced and elegant.

Liked it?  Stock up!

Coursey Graves Bennett Mountain Estate Red Blend 2016

Moving over the Mayacamas to Sonoma, Bennett Mountain is the estate vineyard for Coursey Graves and it is here where the winery is located.  This red blend is comprised of 60% Merlot and 40% Cabernet Sauvignon.  The winemaker himself describes this wine as follows: "Dense in the glass yet has purity and elegance.  Seamless wine that doesn't have rough edges and everything is in the right place.  Aromatics of crushed rocks, lavender and currant.  Mouth coating dark fruit flavors of blueberries, crème de cassis with a touch of vanilla.  Finishes with velvet fine tannins." 

This wine is aged in 90% French oak barrels, 65% new for 16 months, then moved to stainless steel barrels on lees for an additional six months.  The remaining 10% is aged in terracotta amphorae for 22 months.  The final blend is assembled in stainless steel tanks and let to settle naturally for two months before being bottled unfined and unfiltered.

Liked it?  Stock up!

Not to be missed!  Click here to watch a video of Mat tasting and discussing these two Coursey Graves wines with owner & winemaker Cabell Coursey.